Current Topic: We are a proud supporter of our local 4H club. Including loaning equipment, horses and donating our time and sometimes even our facility.
The 4H Club Has Special Meaning For Shauna...
When Shauna was a young girl she was a member of her local 4H club. I guess it to be a special time from her youth. As a result not only does she encourage membership but we additionally donate our resources to help perpetuate it in our town. From my point of view it is one of the few available non-school related activities that actually has an emphasis on character building. It's about Discipline, Presentation and Showmanship. It is expected that everyone who does not win does so honorably. There are no losers in 4H.
Blah blah!
Blah blah!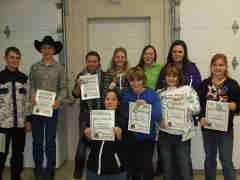 Blah blah!
---